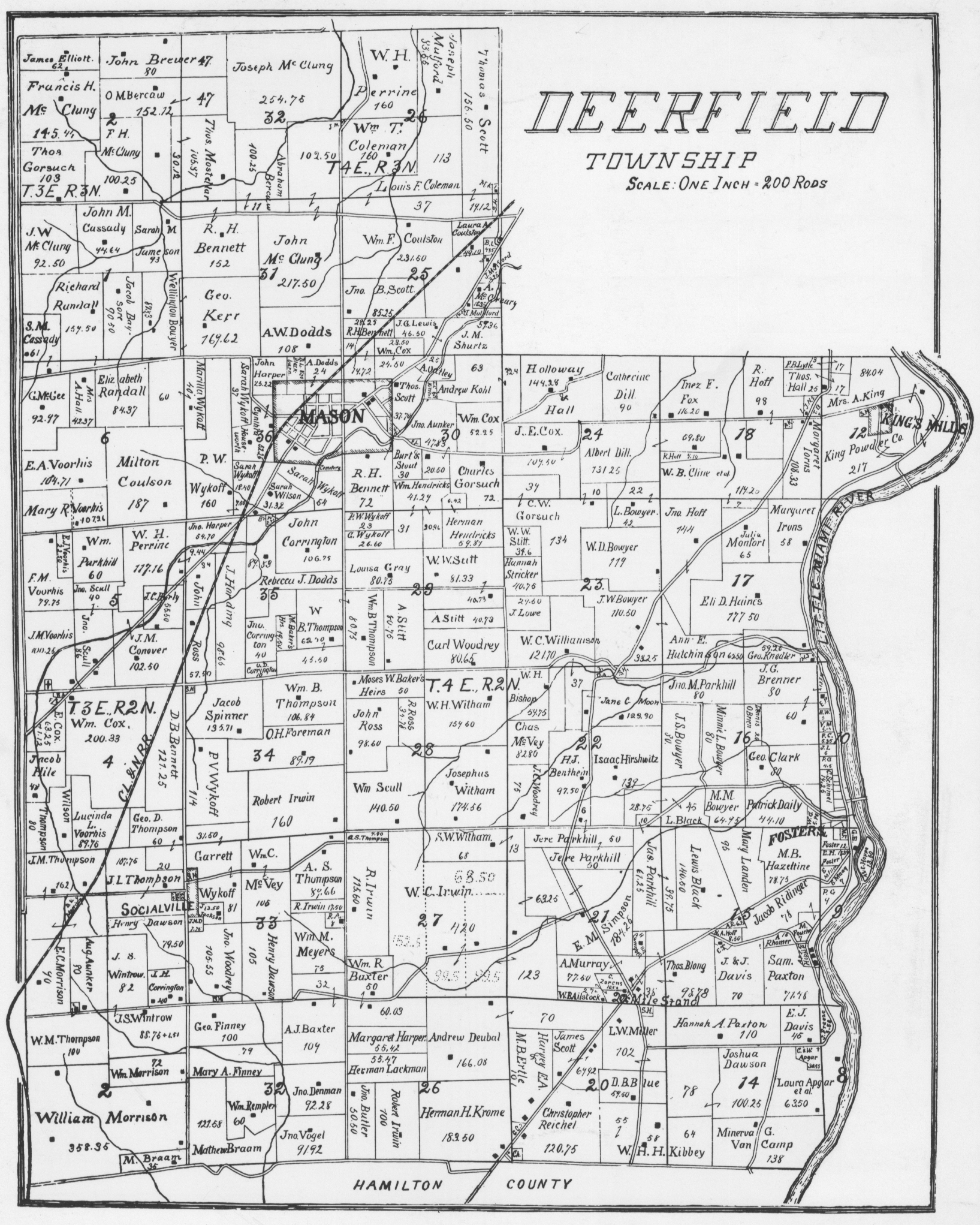 Our History
Deerfield Township's name is derived from its many former "deer licks" - springs that had a saline content that supported a large deer population in the area. The township lies in the former Symmes or Miami Purchase. Early settlement dates from the late 1790s. The township was established on May 10, 1803.
Originally the township included more than half of Turtlecreek Township, all of Union Township, and all of Salem Township north of the Little Miami River. Today, Deerfield Township occupies the southwest portion of Warren County. It is the most heavily developed township in the county.
During the first 40 years of its existence, "Overseers of the Poor" were elected. Their function was to see to the welfare of the township citizens who were unable to make a living. The "Overseers," in essence, "sold" the care of these citizens to the lowest bidder. The buyers were then responsible for these citizens for a year. The township also had a practice for some years of expelling those it thought would commit crimes and/or become a burden on it. The township would issue warrants on these individuals telling them to leave it.
In the early 1800s, the township was such an important crossroads for travel and commerce that road building, linking it to Cincinnati and points elsewhere, began soon after it was established. Later in the 19th century, an organization was formed called "The Horse Rangers." Its mission was the maintenance of the laws of the township, the detection of villainy and outlawry and the pursuit of the perpetrators. The group recovered over 20 stolen horses and most of those involved in their thefts. This resulted in similar group's creation in the Twenty Mile Stand area in the southern part of the township.
William Mason, a Revolutionary War veteran, purchased a square mile of land in 1815 and platted it as Palymra. After his death, the name of the town was changed to Mason. It was incorporated as a village in 1840. Over the years, Mason grew quite substantially, covering more than 11,000 acres. It was incorporated as a city in 1971 and in 1997 it withdrew from the township..
The company that would become the King Powder Company and Peters Cartridge Company began around 1850 by Ahimaaz King. By 1878, it relocated to an area a few miles east of Mason in the sheltered valley of the Little Miami River. Mr. King built a complete village, Kings Mill, for his workers, with homes and schools for their families. During its period of operation, the company experienced several major explosions and large fires. The factories closed in 1958
This article was written for the Warren County Bicentennial by Mr. John Zimkus and the Honorable Pat South, Warren County Commissioner. Used by permission.