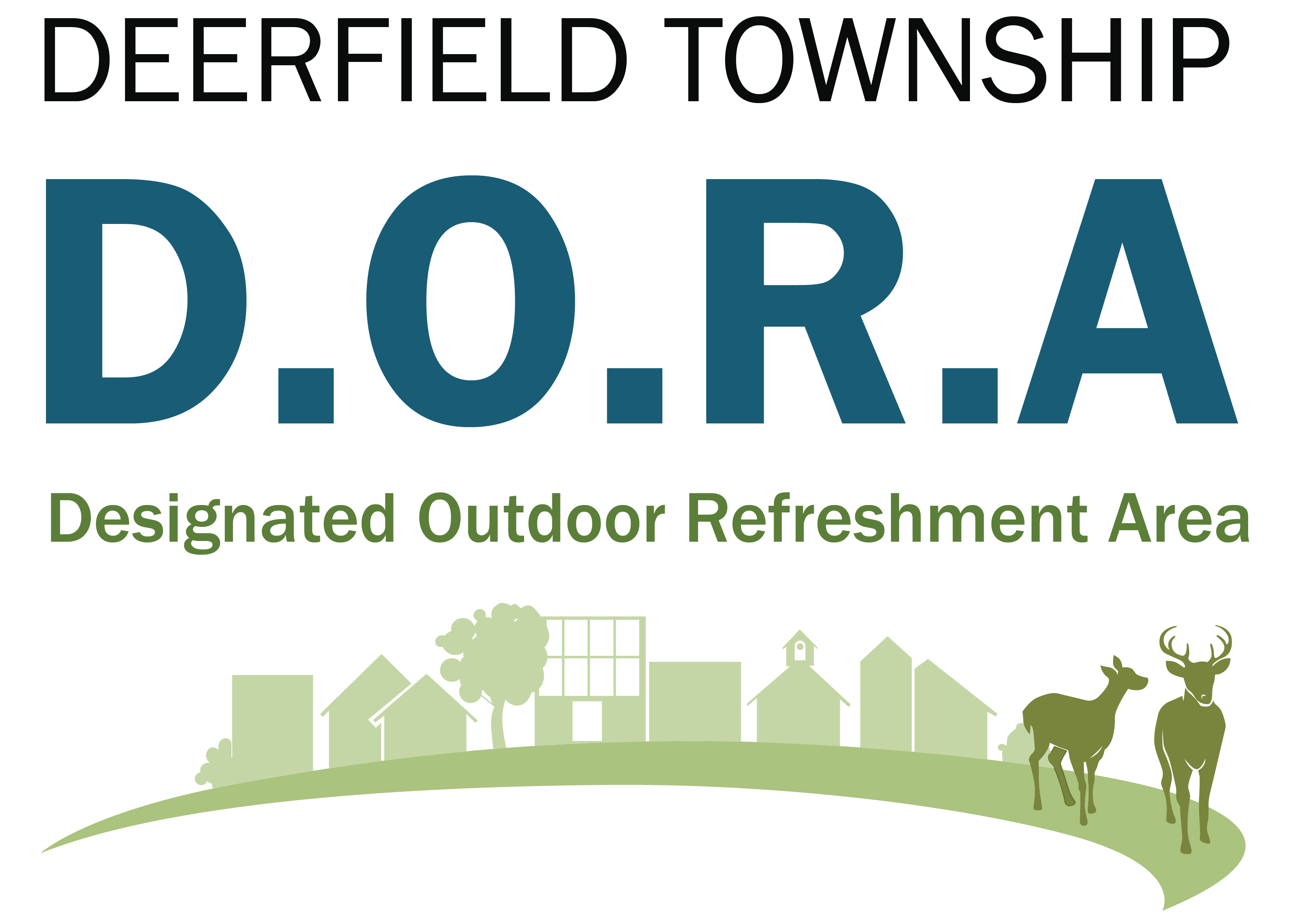 On June 4th 2021, the township will officially launch a Designated Outdoor Refreshment Area (DORA), which will initally encompass the Deerfield Towne Center. After that date, the DORA will be in effect year round.
Section 4301.82 of the Ohio Revised Code authorizes townships with populations more than thirty-five thousand (35,000) to create Designated Outdoor Refreshment Areas or "DORAs" up to three hundred twenty (320) contiguous acres or one-half square mile.
A DORA is a designated area approved by the Board of Trustees that allows patrons 21+ to purchase alcoholic beverages in a designated cup from permitted establishments and carry the beverages within a defined area.  Establishing a DORA is another tool to help promote the township as a destination for dining, retail, and entertainment.
The Board of Trustees formally approved the establishment of the DORA at the Deerfield Township Board of Trustees Meeting on July 7, 2020. The township's application can be viewed here.
Frequently Asked Questions
Below are some frequently asked questions related to a DORA. If you have additional questions please contact the Deerfield Township Offices by phone at 513.701.6958 or email Paul Brehm, Economic Development Director and Public Information Officer at pbrehm@deerfieldtwp.com.
What are the DORA Boundaries?
The boundaries of the DORA will initially encompass the Deerfield Towne Center (please see the map below). There will be distinct signage displayed around the borders of the property to notify patrons of the boundaries as noted on the map.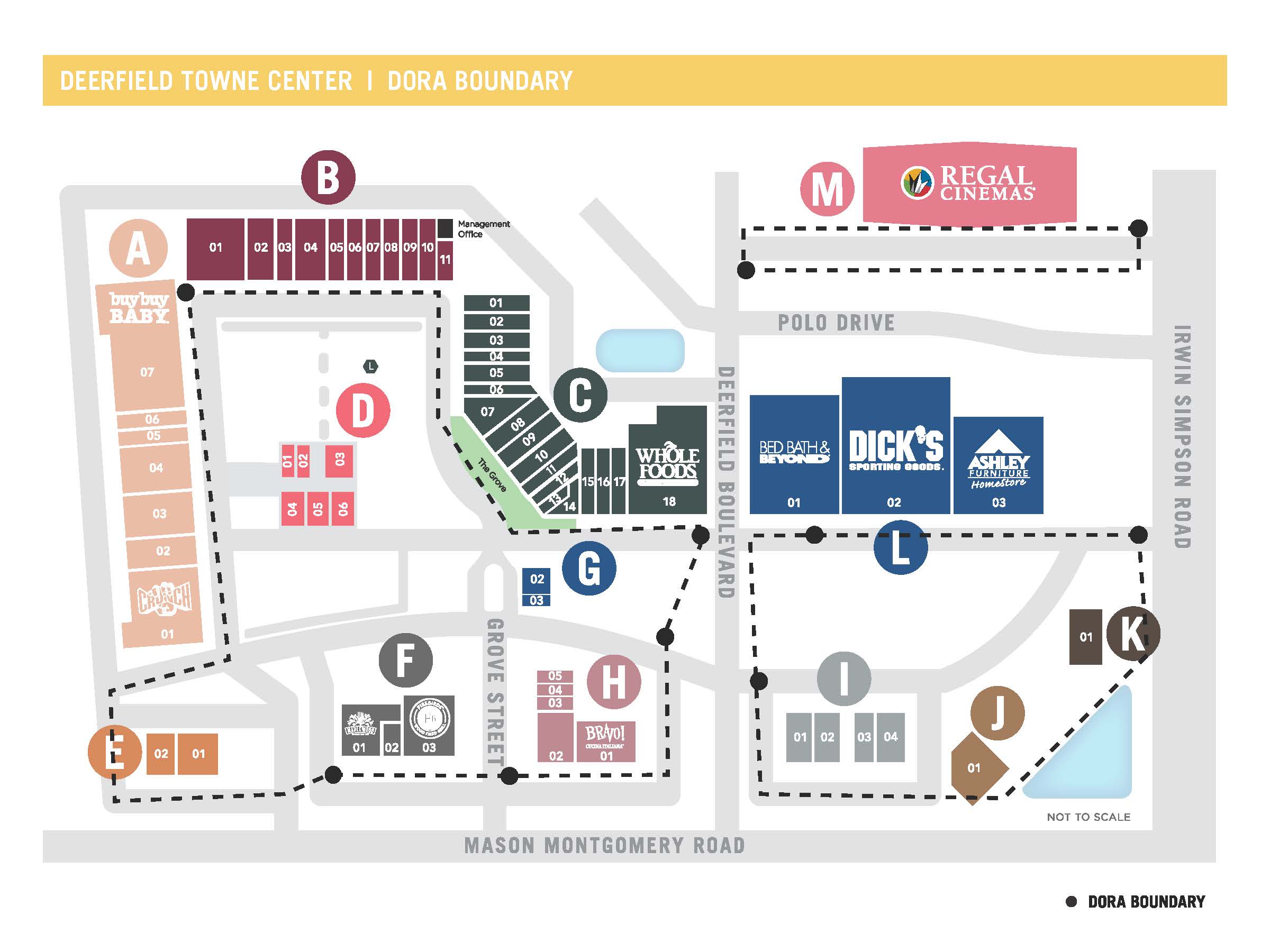 Where can I purchase a DORA Beverage?
The following locations have the necessary liquor permits to be able to serve DORA beverages. As additional buisnesses become eligible we will update this information.
Bravo Italian Kitchen
Condado Tacos
Firebirds Wood Fired Grill
Frechie Fresh
Maplewood Kitchen and Bar
Rusty Bucket
Whole Foods Market
If you are a business owner in the DORA district and want to learn more about necessary requirements for being able to serve DORA beverages, please contact Paul Brehm, Economic Development Director and Public Information Officer at 513.701.6958 or by email at pbrehm@deerfieldtwp.com.
What are the hours of operation for the DORA?
The hours of operation will be as follows. Please note this will remain consistent throughout the year.
Monday through Thursday - 6:00PM to Midnight
Friday through Sunday - 12:00PM (Noon) to Midnight
What types of beverages can I have in my DORA cup?
Allowable beverages to be consumed in the DORA designated cups (rendering below) include beer, wine, and liquor. These drinks must be purchased from participating businesses. Patrons cannot bring their own alcoholic beverages and pour it into a DORA cup and walk around the designed area. No cans, glass bottles, or outside drinks are permitted within the boundaries.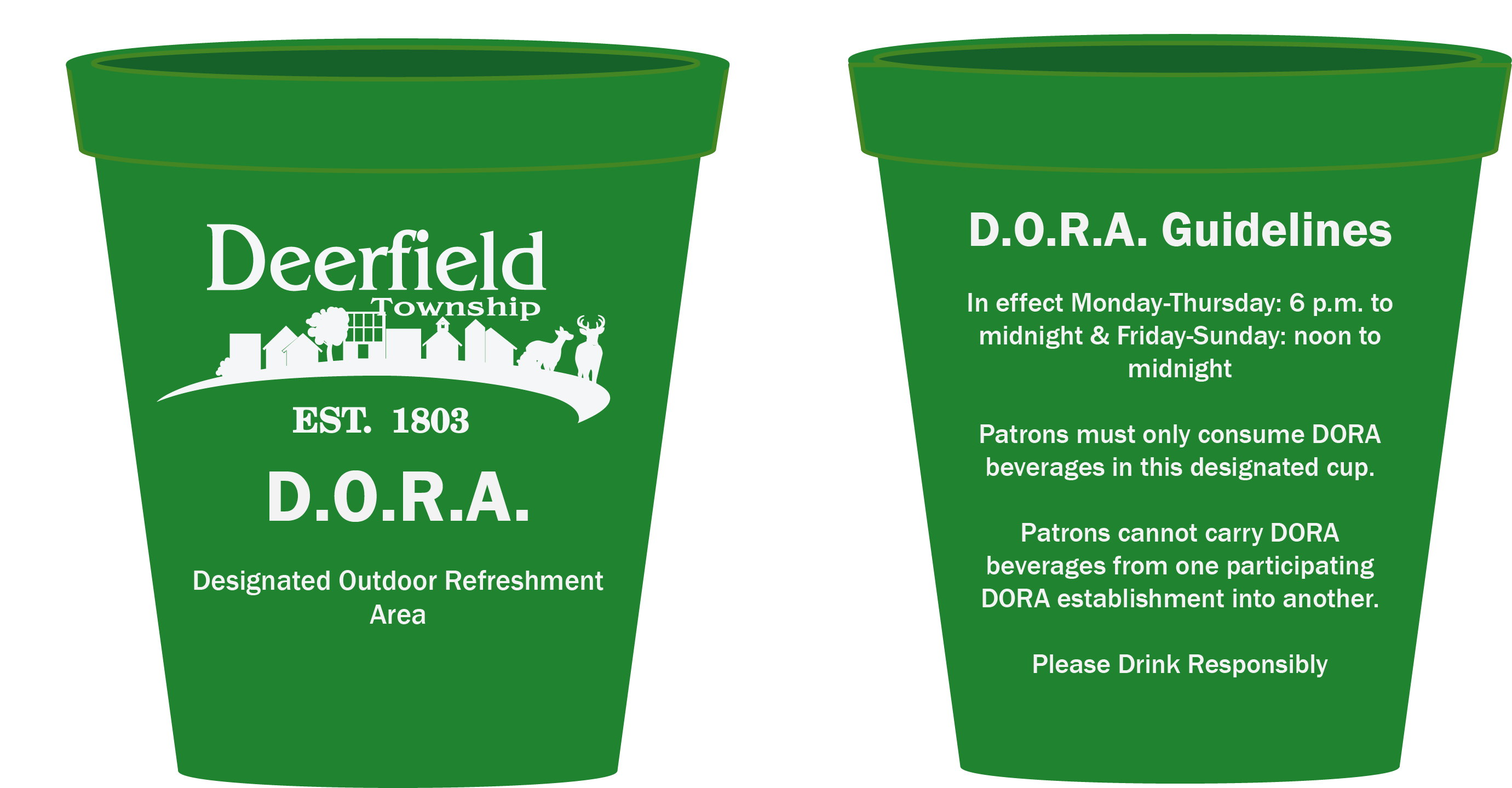 Where can I go with my DORA cup?
Once a DORA cup has left the business it was purchased at, it must be consumed before you re-enter that business or any other business that sells alcoholic beverages.
However, you can enjoy your beverage in the public gathering spaces within the designated boundaries. Some non-alcoholic serving businesses within the DORA area may choose to allow you to enter their establishment. Individual businesses within the boundaries may have separate policies.
Each business will display their policies with window clings indicating whether they sell DORA beverages, welcome DORA beverages in, or do not allow DORA beverages to be taken into their establishments. Images of these window clings are below.