Daytime Closures in Hudson Hills Development for Concrete Traffic Island Removal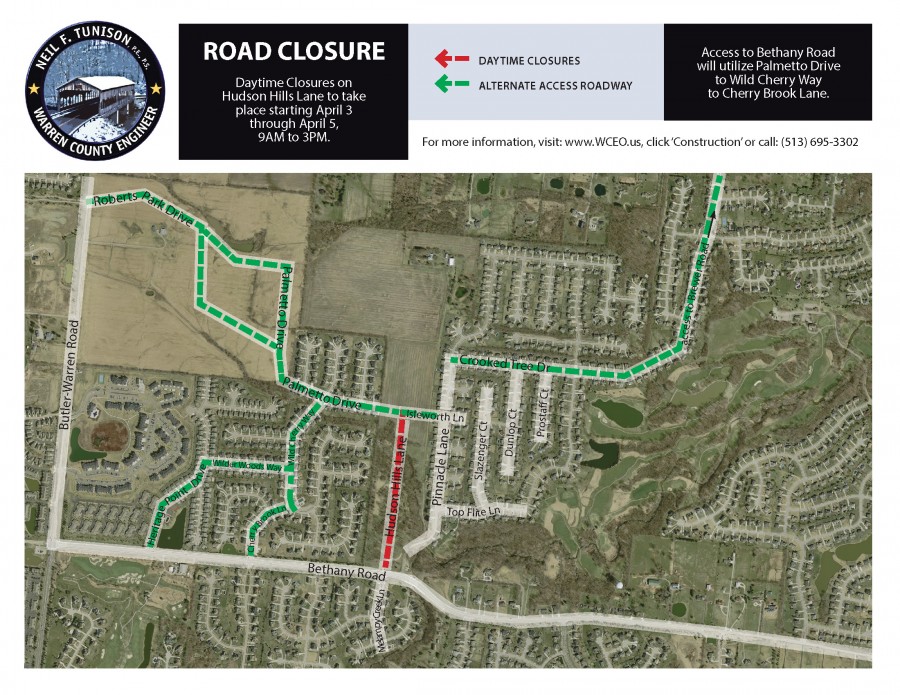 Lebanon, Ohio – Deerfield Township – Starting Tuesday, April 3, 2018, Hudson Hills Lane will be closed from 9:00 a.m. – 3:00 p.m., for three (3) days, weather permitting. The closure of Hudson Hills Lane is for the removal of four concrete islands to improve the safety of the traveling public, allow on-street parking on the east side of the street and provide more space for construction. Two islands will remain at each end of Hudson Hills Lane, near Bethany Road on the south and near Palmetto Drive/Isleworth Lane on the north. Be advised, construction traffic will continue to utilize Hudson Hills Lane during the closure but through traffic will be prohibited. Plan ahead to use alternate routes during the closure. The posted detour will utilize Palmetto Drive to Wild Cherry Way to Cherry Brook Lane. Thank you to the traveling public for their patience.
For more information, contact WCEO at (513) 695-3302.