Wilkens Blvd., Deerfield Township, intermittent delays.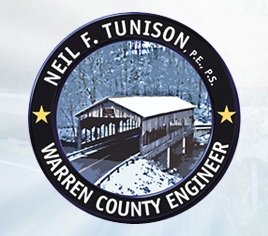 Lebanon, Ohio – Deerfield Township, Warren County, Ohio – Weather permitting, beginning July 8th through July 10th, Wilkens Blvd. shall experience intermittent and rolling closures for resurfacing in both northbound and southbound lanes consecutively. Traffic shall not be maintained in the travel lanes while work crews are paving. There shall be no detour listed at this time, as the delays are temporary and evolving. Expect these delays in advance, and please adjust travel routes accordingly. These delays are during daylight hours only.
Your cooperation during this event will be greatly appreciated.
For more information, visit http://www.wceo.us/ or contact WCEO at (513) 695-3301.
About the Warren County Engineer
County Engineers in Ohio are required by law to be registered as both Professional Engineers (P.E.) and Professional Surveyors (P.S.) They are responsible for the maintenance and construction of county roads and maintenance and construction of bridges on county roads, township roads, and certain streets within municipalities. They are also responsible for maintaining land surveying records, checking the accuracy and adequacy of recorded land transfer documents, and establishing or re-establishing certain land survey monuments.